Pay Per Click in Google Adwords
Case Study

Chiropractor Wellness Center
[device type="macbook"]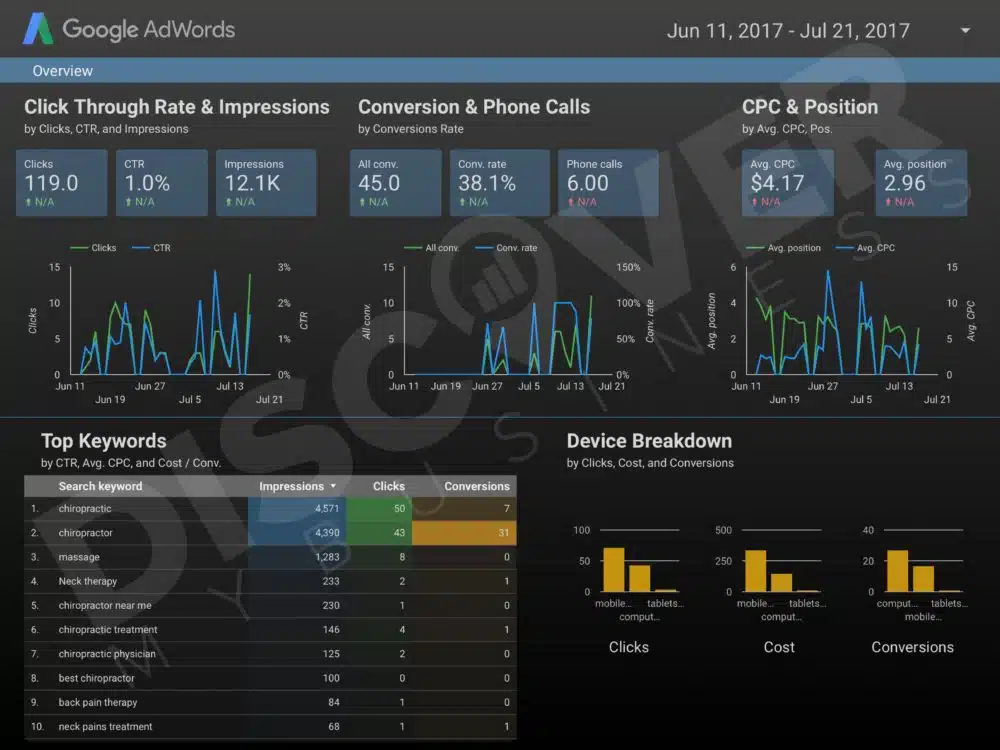 [/device]
Chiropractor rehabilitation center had never worked with pay-per-click advertising strategy before, only traditional marketing, and our team wanted to help creating an effective digital marketing strategy. Chiropractic office looking to growth their client list and lower marketing expenses for their office, and DiscoverMyBusiness, LLC made sure that they were on the right track for success
Details
Industry: Chiropractors
Date: Jun 11, 2017 – Today
Service Provided: Google Adwords
Chiropractor wellness center integrate all the components of our patient's lives and bring them into balance to restore health. We provide the path to healthy, pain-free living by preserving the alliance of the body and the mind.
Our team uncovered that the existing website was not user-friendly, and caused many potential clients to abandon the process altogether after only a couple seconds. In order to fix this problem, DiscoverMyBusiness, LLC created and designed a new landing pages that simplified specific chiropractic services. Once the process was optimized, we launched a pay per click strategy on Google Adwords using search only and call only campaigns. After around 30 business days, we increased their leads base by 20% in total.
Developing our own chiropractic process and AdWords technology, our team identified new gaps in competitor strategies, diversified targeted keywords terms and increased ad relevance to push lead generation through the roof.
Since beginning work with Chiropractor Wellness Center, our paid search strategy has seen fantastic progress in desired metrics:
The conversion rate for the first month account start with 38% which is great number for start, the CPC pretty good for this industry and stand on $4.17, We are striving to maintain and build on the impressive results we have seen in the short time we have worked with chiropractic rehab clinic. We continue to optimise and restructure the business online advertising campaign in order to maximise their budget.
Increase in Clicks – 100%

Increase in Conversions – 100%

Conversion Rate – 38%
Client's location
Bergen County, New Jersey